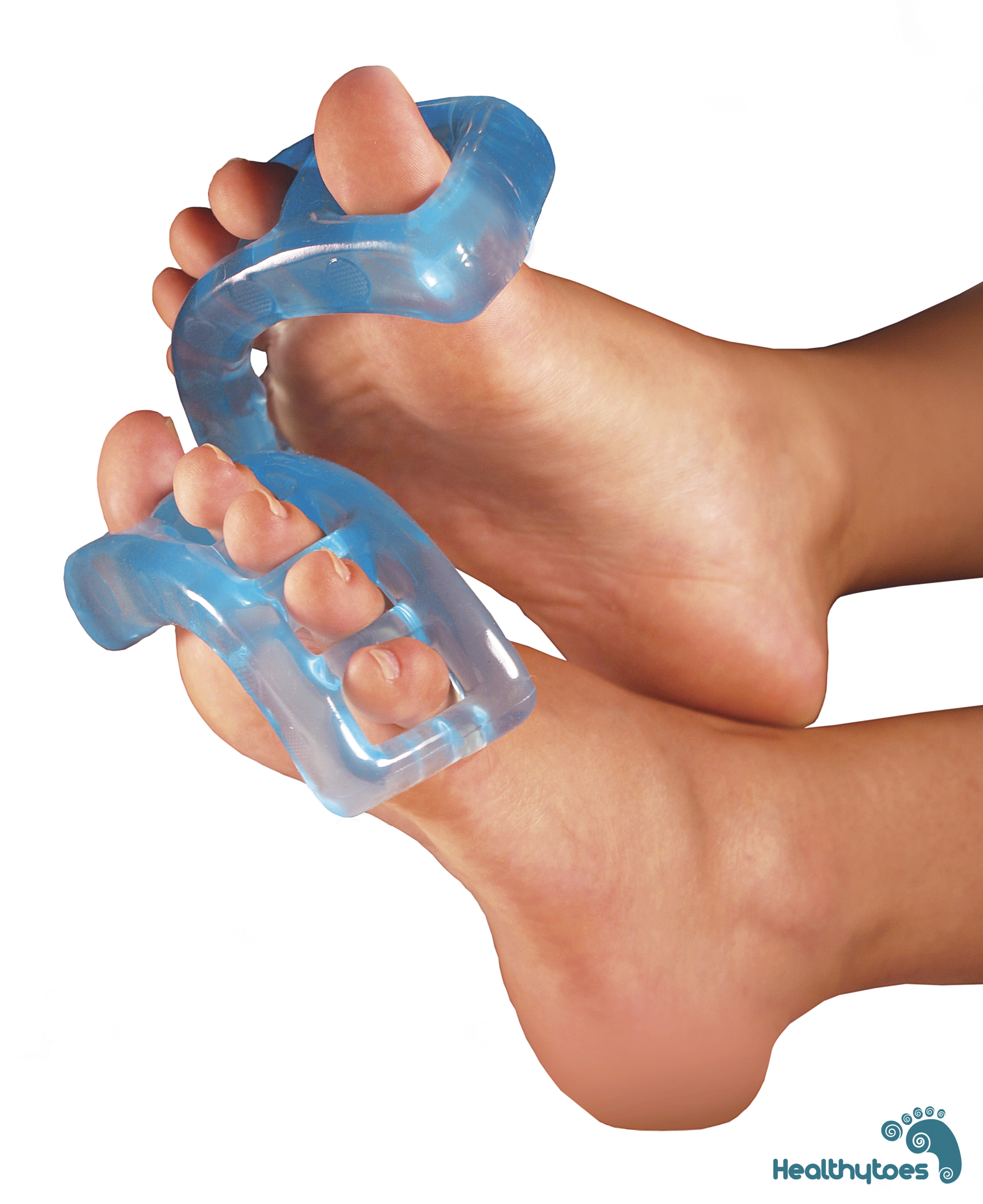 Good. Item arrived on time. Item as described. I play a lot of tennis and they have helped with the soreness after a match. Plus I have a bunion and the toe stretchers seamed to help with the pain after a match. they are worth a try"
Date: 9/14/2007 Rated by Buyer: Gale
This feedback is from a wonderful buyer in Germany:
I bought Healthytoes from Crazyharry. I'm an international buyer and I was surprised how soon they arrived. I have used them every single day and found the product is great value for its money. In the beginning, I found the stretch painful and could bear it only for short intervals. By now, all I feel is a pleasant feeling of "breathing feet". I found that I get more conscious of my toes and regain abilities I had as a child, like wiggling my toes separately. I love my Healthytoes and would recommend it to anyone who wishes to vitalize his feet and restore them to their rightful place as body parts you FEEL - and not only passive prisoners of the iron boot.
Yours, Nemia777
What your podiatrist won't tell you about foot care is that it's easy - routine exercise keeps your feet in shape, just like the rest of your body. Now there is a product to do the work for you with HealthyToes.
A revolution in Foot Care. Just kick Off you shoes, put your feet up and RELAX !!! Treat your feet to a whole new therapy that feels amazing with HealthyToes Toe Stretchers. They work to beautify, heal and strengthen your feet!
Healthy Toes are similar to the more popular Toe Stretchers that you may have seen advertised in magazines. crazyharry's now offers HealthyToes Toe Stretchers at a much lower price! They are durable, and made of a waterproof, Medical-Grade, flexible gel that is easy to disinfect with soap and water.
HealthyToes Toe Stretchers are composed of a special gel material that is fitted into the spaces between your toes to help open up your circulatory system. The HealthyToes Toe Stretchers will exercise and condition your feet, and with daily use you will notice an improvement in the shape and strength of your feet.
The Foot Care Toe Stretchers are also very therapeutic and are used to treat many foot complications, foot pain, poor circulation, and other serious conditions such as:

Bunions

Hammer Toe

Sciatica

Arches

Plantar Fascia

Achilles Tendon

Varicose Veins

Deep Vein Thrombosis (DVT)

Foot Pain
Used by:
Athletes
Yogis Dancers
Golfers
Runners
Police Officers
Hospital workers
Mothers-to-be
Upon the initial use you will feel a tense stretch, but this is a good stretch. The longer you can wear HealthyToes Toe Stretchers the more limber your toes will become. If it hurts to wear the toe stretchers for long treatment sessions, then try increasing the frequency of treatment sessions per day or week. The more you stretch the quicker you will realize benefits. Keep in mind; you are performing a stretch that your toes have never experienced before. So it will take some time to develop flexibility.
This Foot massage Toe Stretchers can be worn while relaxing on the couch or while soaking in the tub. Healthy Toes Toe Stretchers can be worn under your desk or on the beach. They pack easily in your luggage and are great to wear after a long day of traveling.
Using Healthy Toes Toe Stretchers every day is like practicing yoga on your feet.

Your toes and feet will receive many of the same healthy benefits that your body does when practicing yoga including:

1. Increasing balance, "surefootedness", joint range, coordination,

2. Decreasing pain

3. Restoring the natural vibrancy and bounce of healthy athletic feet

4. Correcting bone/tissue/cartilage misalignments

5. Detoxification

6. Improving posture, foot reaction time, stamina

7. And more…
Healthy Toes Toe Stretchers go everywhere in their own carring pouch.

Size Chart:
Unisex -
SMALL FITS : Women's shoe sizes 5.5 to 10.5
Men's shoe sizes 3.5 to 7

LARGE FITS : Women's shoe sizes 11 and up
Men's shoe sizes 7.5 to 14

SIZING TIPS: The majority of Women with medium-width feet will wear a size Small. 99% of Women new to toe stretching should order the size Small. If you are unsure as to which size to order after reviewing the sizing chart, we recommend getting the Smalls, but it is ultimately your decision to choose the size that is right for you by using the chart provided. We uphold strict health standards and only sell new, unworn toe stretchers straight from the factory.

Indications: Bunions, Hammer Toe, Sciatica, Arches, Plantar Fascia, Achilles Tendon, Varicose Veins, Deep Vein Thrombosis (DVT), Foot Pain, Overlapping Toes, Pinched Toes

Shipping
Buyer pays S&H of $6.00 for priority delivery in US
For CANADA, UK and most other Countries $17.00 for International Priority Mail
Any questions email me